HEALTHCARE INDUSTRY SOLUTIONS
A healthy IT infrastructure.
At our company, we understand that running a healthcare business can be challenging and that patient care is your top priority. That's why we offer complete IT setup services for clinics, medical offices, and laboratories.
Our experienced team carefully selects specialized equipment and software that streamline all aspects of patient care, including reception, consultations, tests, and billing. By leveraging the latest technologies, we ensure that your operations are faster, simpler, and more secure, allowing you to focus on what really matters - taking care of your patients.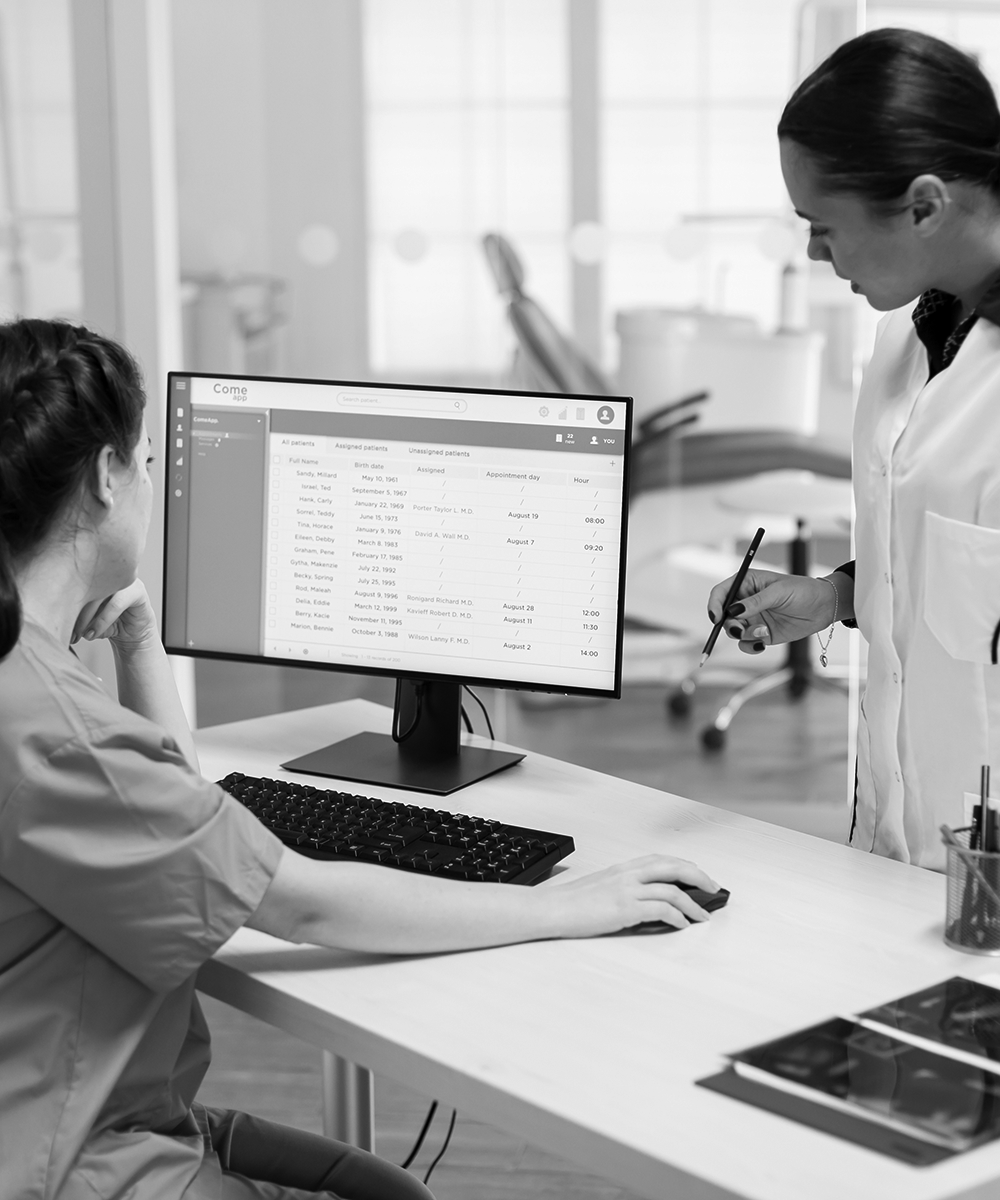 IT solutions for Healthcare Industry
---
COMODA Healthcare solutions
We expertly equip both administrative and patient reception areas with high-performance desktops and laptops, ensuring maximum efficiency.
We install all necessary peripherals, including printers, scanners, and UPS.
We ensure the installation of all required licensed software systems on each workstation, including professional programs, office suites, and comprehensive security solutions.
We seamlessly integrate all external information systems, such as CRM, ERP, and 1C, to effectively manage appointments, medical history, and financial operations.
We implement advanced electronic queue management systems to streamline processes and enhance the overall patient experience.
We expertly set up and secure the network infrastructure and Wi-Fi connections for both employees and visitors for improved connectivity.
We skillfully configure storage systems, including servers and data centers, and implement automated backup mechanisms to ensure the security and accuracy of patient and appointment data.
We expertly install smart security systems, such as video monitoring and access control based on cards or biometric data in restricted areas, to ensure maximum safety and security.
BENEFITS FOR YOUR BUSINESS
Patient satisfaction
We share your belief that customer satisfaction should always be a top priority. A well-designed IT infrastructure can have a significant impact on how patients interact with a medical center, and ultimately, their level of satisfaction. That's why we're committed to helping you implement scheduling systems, electronic queuing, and medical record storage solutions that streamline wait times and enhance the exchange of information with staff, resulting in a more positive patient experience.
Expertise
We recognize the high standards of the medical industry, and we take pride in offering customized IT solutions that are tailored to your specific needs. Our team will work closely with you to identify the perfect solution based on your business profile, size, number of employees, and patient demands.
Data protection and privacy
We prioritize the utmost confidentiality of medical data in compliance with relevant legislation to ensure that no leaks, malfunctions, or cyber-attacks can compromise it in any way. We take a comprehensive approach in designing and building a robust data infrastructure that relies on dedicated storage solutions and automated backups to safeguard all sensitive information.
Simplicity
We recognize the fast-paced nature of the medical industry and the complexity of patient processing. That's why we provide IT solutions that help your staff focus on patient health while saving time and effort on repetitive tasks. With our solutions, wait times become more predictable, medical histories are always readily available, appointments can be made quickly and without overlap, and documents are promptly released.